Compare Honda CR-V to Competitive Models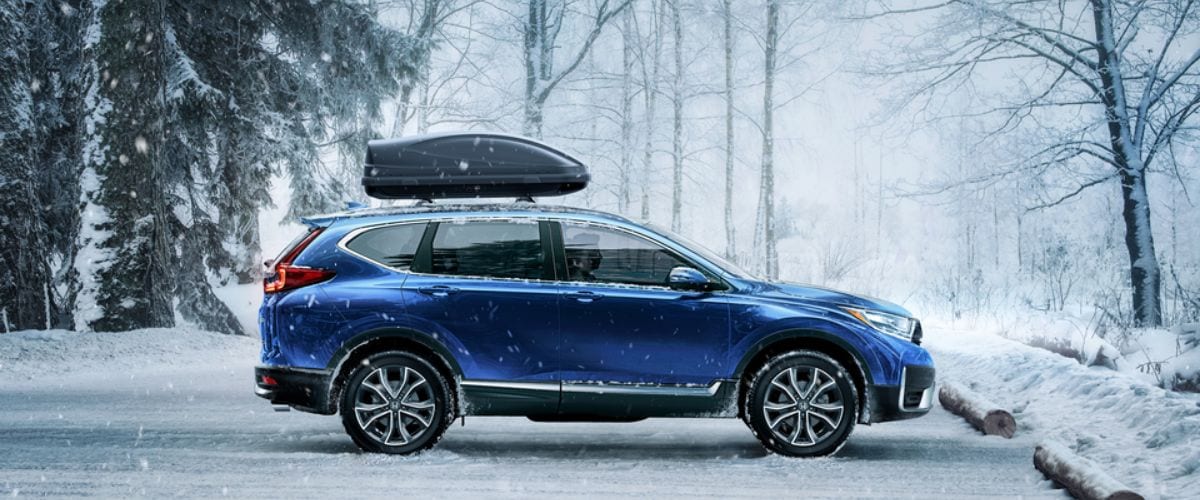 What Makes the 2021 Honda CR-V Better than Another Compact SUV?
There are a lot of SUVs out there, and it can be hard to find the things that set them apart. At Honda of Annapolis, we occasionally take a closer look at one of our Honda models and its competition so that we can offer you that information in an easily digestible fashion. The Toyota RAV4, Nissan Rogue and Subaru Forester are all great in their own right, but how do they compare to the 2021 Honda CR-V?
Honda CR-V vs. Toyota Rav4
When Autumn and Winter arrive, you'll need to find all sorts of creative ways to stay warm on your commute. One of the easiest ways is to use heated seats, and the 2021 Honda CR-V has heated front seats on all but the base trim. The RAV4 doesn't have any available heated seating until the RAV4 XLE Premium, where you need an additional package for heated front seats. The XSE Hybrid and Limited trims are the first that give you heated front seats standard.
When you park your car and walk into the store, you might think your belongings are safe, but did you remember to lock the doors? That little doubt can eat away at you, distracting you from your work. If you're driving the Toyota RAV4, you'll either have to life with that doubt or leave to double-check, but the 2021 Honda CR-V offers Walk Away Auto Lock®. As the name suggests, this SUV will automatically lock the doors when you walk away from the car with the key fob, putting your mind at ease.
Honda CR-V vs. Subaru Forester
Hybrid vehicles offer a lot of benefits, not least of which are the higher efficiency and environmental effects. If you want a hybrid SUV, the 2021 Honda CR-V Hybrid is available in three different trims, offering the best of the 2021 Honda CR-V. If you want the same from the Nissan Rogue, you're out of luck. While it had a hybrid version in 2017, the 2021 model year has no such hybrid option.
Kids fighting in the back seat, your phone going off or just the worries of the day can all be enough to distract you and make you drift from your lane. The Nissan Rogue will detect this and give you an alert, as well as applying the brakes to help you get back in your lane. The 2021 Honda CR-V will go a step further, applying mild steering torque to guide you back into your lane and keep you from veering off the road.
Honda CR-V vs. Nissan Rogue
The 2021 Honda CR-V Versus the 2021 Subaru Forester
 
Those Maryland summers need a strong climate control to keep up with them. The 2021 Honda CR-V has dual-zone automatic climate control on all but the base trim, giving you precise control over the temperature in your cabin. If you want the same in your Forester, you'll need to get the Forester Limited, which is pricier than the 2021 Honda CR-V EX-L, its second-highest trim.
 
One of the main reasons most people look for an SUV is because they need space for people and baggage. While both the 2021 Honda CR-V and the Subaru Forester have plenty of passenger volume, the 2021 Honda CR-V has much more cargo space. With the rear seats upright, it has about eight cubic feet more at 39.2 Compared to 31.1 cubic feet. With the seats down, it has as much as 75.8 compared to the Forester's 69.2 cubic feet.
Take Advantage of Our Fantastic Selection at Honda of Annapolis
Whatever you're looking for from your compact SUV, the 2021 Honda CR-V can offer it. We're proud to offer this and more here, and you can schedule a test drive to see why we love it. Our professional staff are happy to answer any questions you have, so don't hesitate!
Honda Of Annapolis

1736 West Street
Annapolis, MD 21401